UpSolution Core
Updated 1 month 1 week ago
Zephyr itself doesn't have any functions except the output of WordPress basic pages.
The main functionality is provided via the UpSolution Core plugin.
This is a requirement of Envato Market based on WordPress development practices.
How to install the plugin #
When you install Zephyr version 6.1 or higher, you see the relevant notification on all admin pages. Go to Zephyr > Addons page to install and activate UpSolution Core: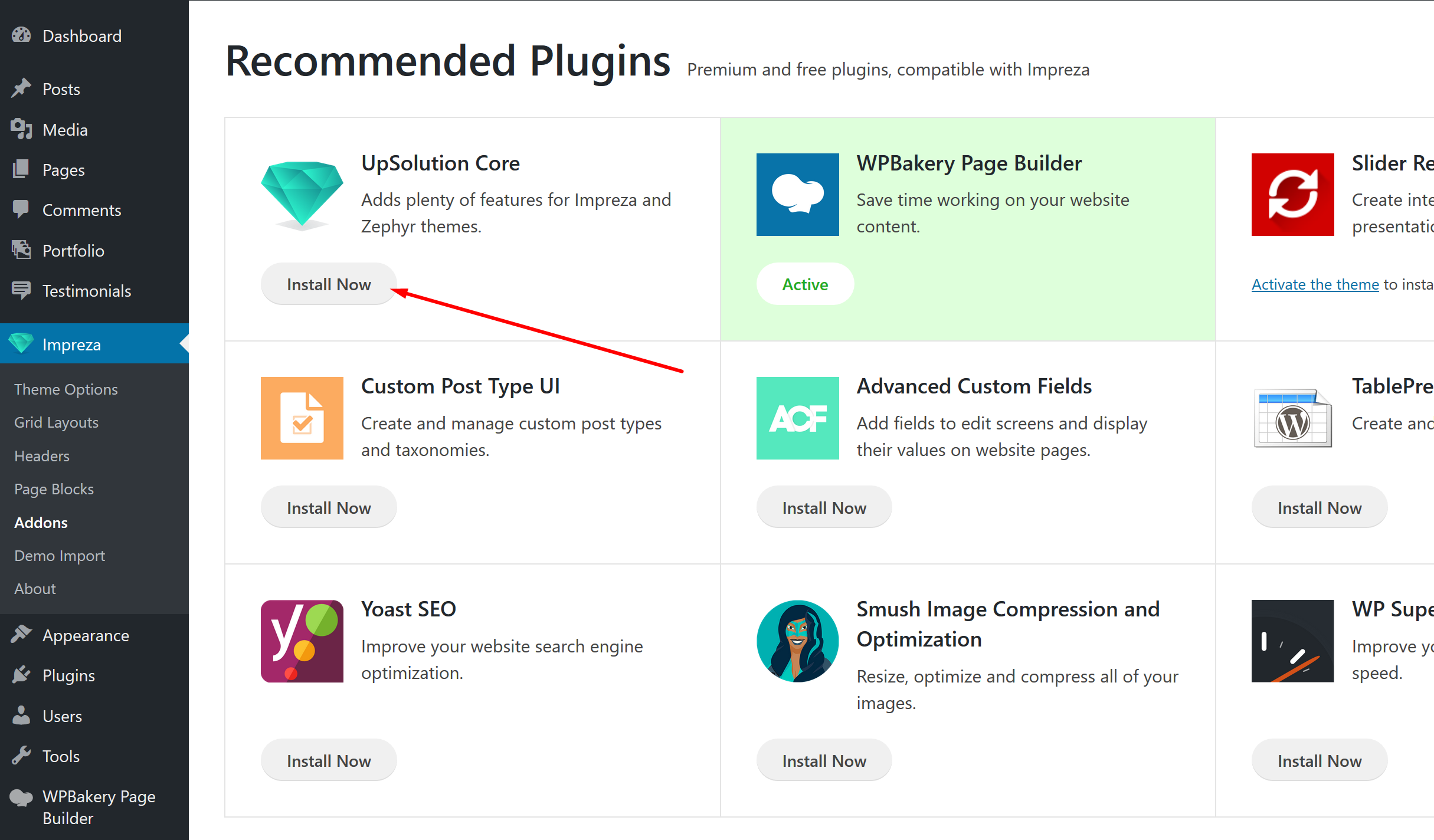 After that Zephyr will work as before. 
Useful to know #
UpSolution Core plugin is bundled inside the theme directory as a ZIP. You don't need Zephyr license activation to install and use the plugin.
Header Builder functionality is part of the UpSolution Core plugin. You don't need a separate "Header Builder" plugin anymore, so you can safely delete it.
UpSolution Core plugin will be updated along with Zephyr.
Changelog #
All versions matching the theme version see in the Zephyr changelog. Only minor separate bug fixes are shown below:
8.4.1


fixed bug when Post Custom Field with "Custom appearance in Grid: Images" shows the text instead of image
fixed incorrect gap between two Grids after update to 8.4

8.3.4

fixed bug when background-image set in the Design settings isn't showing on the front-end in some cases

8.3.3

fixed issue when Design values set for "Mobiles" aren't overriding "Desktops" values

fixed rear case when website header is displayed incorrectly after update to 8.3.2

8.3.1

fixed PHP error on servers with PHP below 7.3

8.1.1

fixed PHP errors on servers with PHP below 7.2

8.0.3

fixed Inner Row design settings

7.14.1

fixed work of Image upload control after update to 7.14

7.11.1

fixed work of Link option in Person element after update to 7.11

7.8.3

fixed cropped images in "Image Gallery" grid layout template after update to 7.8.2

7.8.1
7.5.2

fixed bug when disabled checkboxes were not saved after using the "Auto Optimize"

7.5.1

fixed PHP Warning cannot redeclare us_is_asset_used() 


7.2.1

fixed WPBakery Page Builder compatibility issue

7.1.2

fixed issue when Column background has incorrect size and position after update to 7.*
fixed rare fatal error when Shape Divider in Row uses custom SVG file

7.1.1

fixed bug when Shape Divider in Row can't be removed after update to 7.1
fixed Contact Form with "Horizontal" fields layout

7.0.2

fixed work of Header and Grid Layout builders, and work of Design options for Titlebars

6.5.1

fixed PHP warnings on Archives pages

6.4.1

added option to disable the "Paste from demo" button

6.3.1

fixed appearance of Sidebar, which is set for certain pages via Page Layout box

6.2.2

fixes and improvements for Zephyr 6.0 version

6.1.3

fixed "Extra class" option in Button shortcodes