Theme Activation
Updated 11 months ago
What does theme activation mean? #
It's a really simple process that will allow you to verify that you're using your Impreza in accordance with the original ThemeForest license. Put simply, it proves your purchase.
It's an important thing that allows us to provide you with additional capabilities (you can read about them below) and at the same time not to violate 3-rd parties' licenses.
What will I benefit from activating my Impreza? #
White Label feature. Read about it.
Demo Import. After theme activation you could import any content and theme options used in our Impreza demos
Fast one-click theme updates. Some updates are bound to be urgent: sometimes we fix critical errors or provide compatibility with sudden updates of 3-rd party software. During these heating hours you'll be able to update the theme (from our own servers) sooner than it will be available on ThemeForest. You will receive default WordPress notification about new available Impreza version.
Fast one-click addons installation. After theme activation you could install the needed addons via a single click!
More frequent addons updates. Before this, when we wanted to update some addon, we had to update the theme itself too. And now you are able to update addons separately (from our own servers), which will allow you to receive new versions of them sooner than we decide to update the theme itself.
How can I activate my Impreza? #
We did our best to make this process as simple as possible:
In WordPress admin dashboard open Impreza > About page
Click Activate Impreza button
You will be redirected to this Support Portal via Envato (ThemeForest) login
Select from the dropdown license you wish to activate
After activation you will be redirected back to your site and receive activation confirmation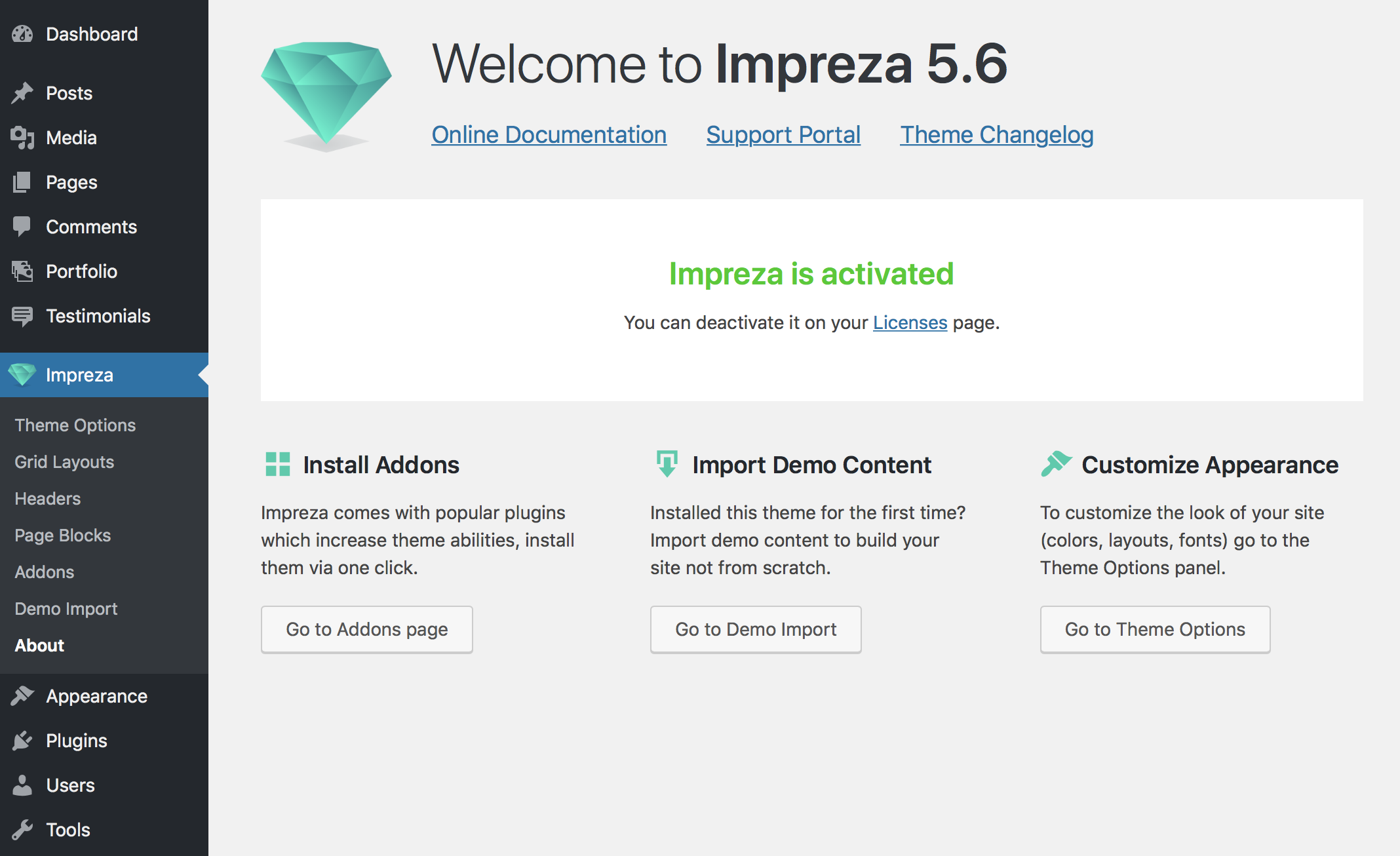 If you see a note that Impreza Child is not activated, go to Appearance > Themes, switch to main Impreza theme and try activating once again.
Can I activate Impreza on a temporary (development) domain? #
Yes, you can activate your license on any temporary or local environment for development purposes, as long as it meets ThemeForest license agreements, note that single license can activate only one site. Once the site is built on a temporary environment you can transfer it using 3d party migration plugin (All-in-one-WP-Migration is a preferable one), then deactivate a license on your Licenses page and reactivate it on your live site.
You can manage all licenses on your Licenses page, specifically:
view all purchased licenses of UpSolution themes
view for what website the license were activated
deactivate already activated license
Can I use my Impreza without activation? #
Yes, you can. Everything you need for a quick start is available without activation: you can install Impreza, install the WPBakery Page Builder addon. But there are the following limitations:
not activated theme doesn't allow to use Demo Import
not activated theme won't receive fast updates, so you can update the theme manually only
not activated theme doesn't allow install its addons via a single click, so you can install them manually only
not activated theme won't receive fast updates for its addons, so you can update them manually only
How many sites can I activate with Impreza license?  #
Each Impreza license allows activating one production and one development site.
Production — the main site with all features included. 
Development  — the site for testing purposes only. On the site activated as Development, the Maintenance Mode is always active and it can't be turned off at Theme Options > General.

How to re-assign the license to another domain? #
Log in to your account at the Support Portal and open its Licenses section.
Press the Deactivate button near the old domain.
Go to the WordPress dashboard of the new domain and activate the license at Impreza > About. 
What to do if activation isn't working? #
 Contact your hosting provider and request to allow connections to https://help.us-themes.com/