Button Element
Updated 7 months ago
Button element is an interactive element with a predefined hover state. It is available in:
Live Builder;
WPBakery Page Builder;
Header Builder;
Grid Layout Builder.

General settings #
Button Label — change the button text
Link — select a predefined value from the following:

None – the button is not clickable but still has a hover state.
To a Post – used in Grid Layouts to open relevant posts in a Grid.
Clickable value (email, phone, website) – uses the button label as a link:


"email@test.com" adds the "mailto:email@test.com"
"1234567890" adds the "tel:1234567890"
"website.com" adds the "website.com"

Onclick JavaScript action – allows you to run a custom script by clicking on a button. Shows the field for a custom javascript value
Custom appearance in Grid: Custom Link – uses the value from the relevant custom field
Testimonial: Author Link – uses the value from the relevant custom field
Custom – shows the relevant field for a custom value

Style — select a button style. Button Style is a combination of visual properties, which is used globally on a website. You can add or edit button styles on Theme Options > Button Styles. You're able to override any style property in the Design tab of the element settings.
Size — set size with CSS units
Size on Mobiles — set size with CSS units. It will be applied on the Mobiles screen width and below
Stretch to the full width — make a full-width button
Button Alignment — select an alignment. The Default alignment means the Left on LTR languages and the Right on RTL languages. Also, the Default alignment allows placing several buttons side by side in a row.
Icon — set an icon near the button label
Icon Position — select the icon position
Hover Effect #
ON/OFF slider in Grid Layout Builder allows adding effects:
Opacity
Opacity on Hover
Scale
Scale on Hover
Horizontal Shift
Horizontal Shift on Hover
Vertical Shift
Vertical Shift on Hover
Background Сolor on Hover
Border Сolor on Hover
Text Сolor on Hover
Hover Transition Duration
Transform origin X
Transform origin Y parameters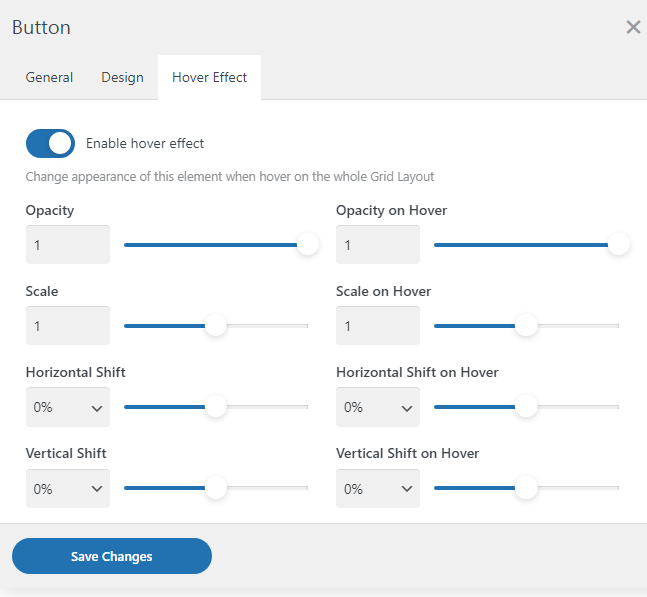 Design settings #
All Design settings are the same for all elements. Read the article.
How to place several buttons in a single line #
Select Horizontal Wrapper Element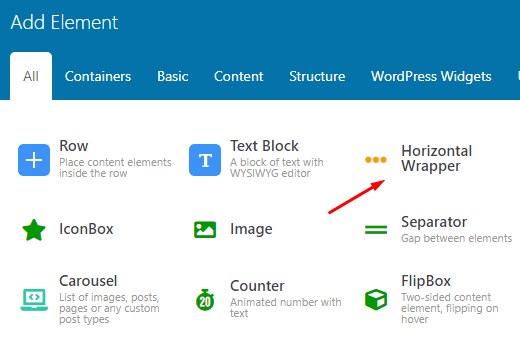 Horizontal Wrapper Setting — set "Left"
Gap between Items — set custom value (default is 1.2rem)
Add buttons to the horizontal wrapper

Result