General settings
Updated 4 months ago
Maintenance Mode #
Allows turning on the maintenance mode to show only one specific page to site visitors. This is useful when the site is under construction. 
When it's turned on, you can pick the specific page via the dropdown list: 

Enable "503 Service Unavailable" status switch allows blocking search engines from accessing your site while it's under maintenance mode. Use this option only for a short period of time, as it might negatively affect your site's SEO performance.
Site Icon #
Allows specifying a custom image that will appear in browser tabs, bookmark bars, and within the WordPress mobile apps.
Also, this image will be shown on the Login page instead of the WordPress logo , for example: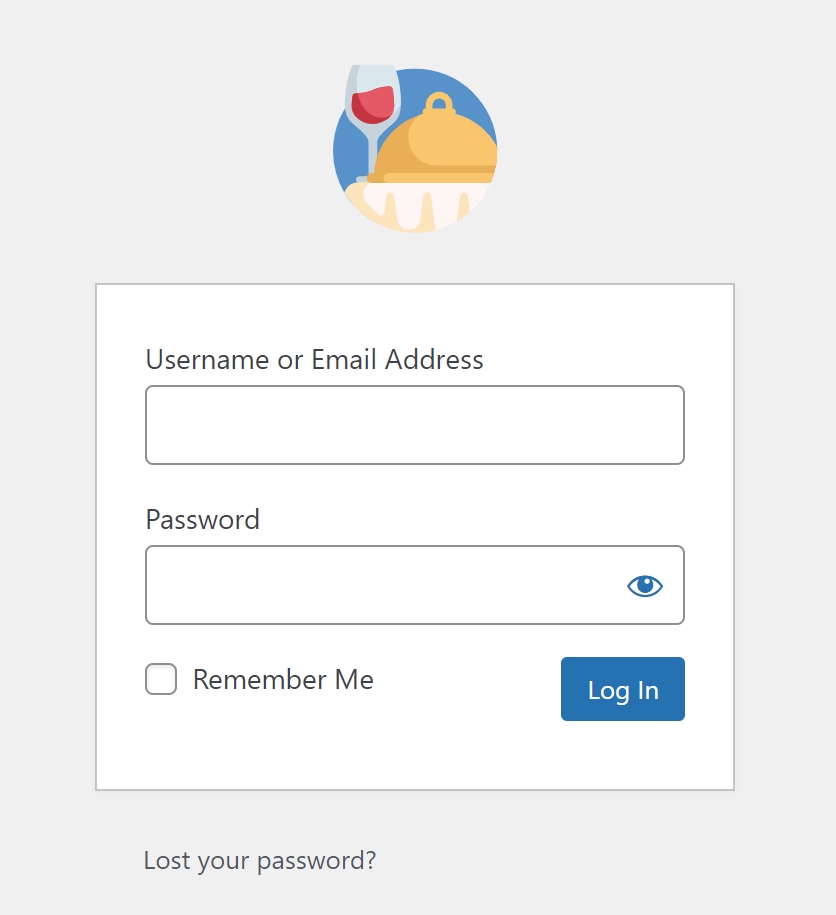 The custom image for the Site Icon should be square and has a size of at least 512x512 pixels.
Dark Theme #
Allows specifying the color scheme, which will be automatically applied when the visitor device (computer, laptop, mobile phone) is switched to a dark theme.
By default, it's set to "None", which means that the colors specified at Theme Options > Colors will be applied to both regular and dark themes.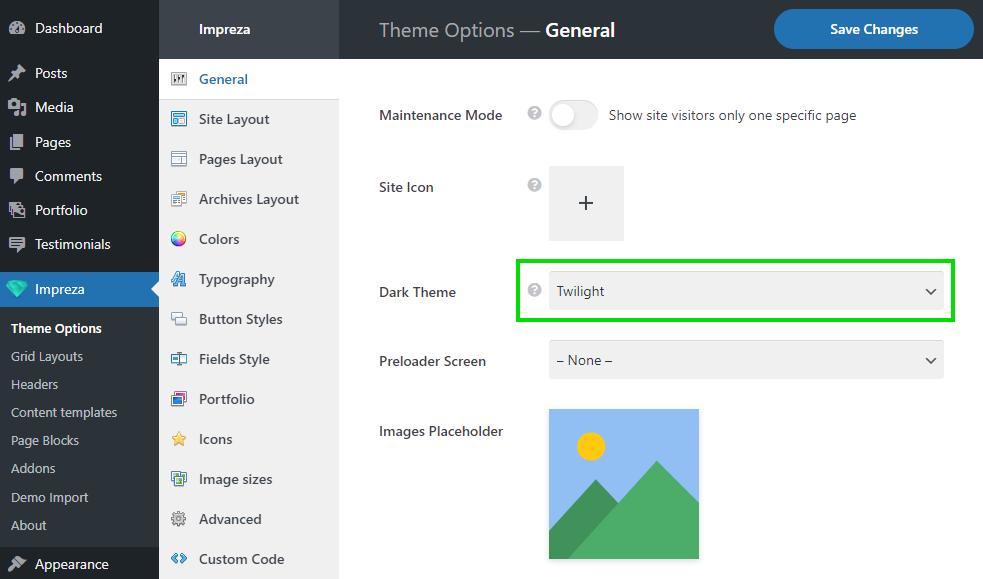 Preloader Screen #
The preloader screen shows a specific animated icon (or a custom image) that a visitor sees before loading a website page.
Using a preloader screen is NOT recommended due to bad results of user experience metrics.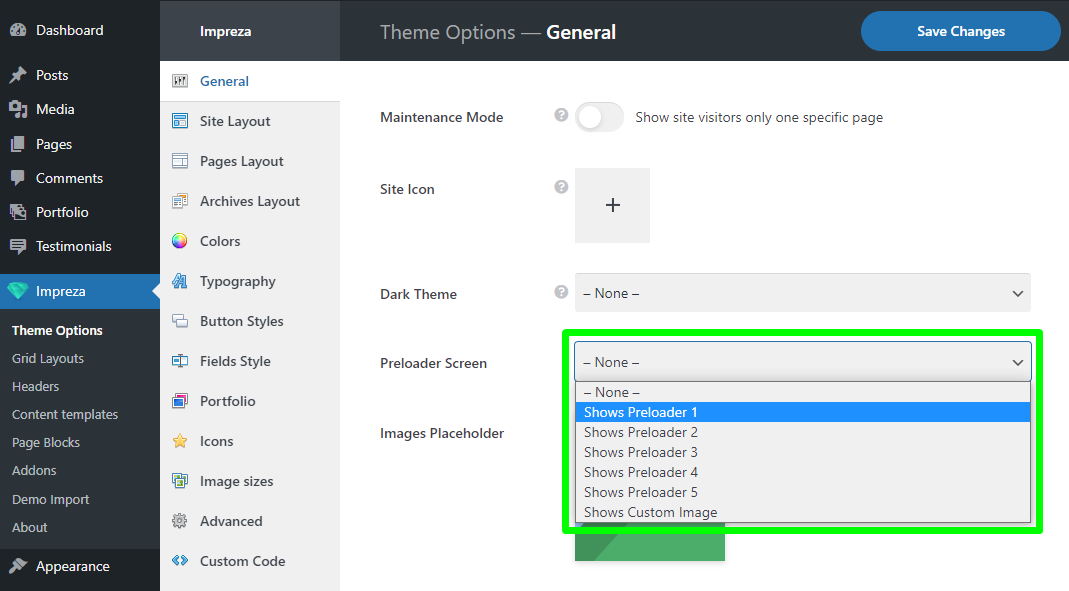 Images Placeholder #
Allows specifying a custom images placeholder. An image placeholder will appear in some theme elements instead of deleted or non-specified images. 
Ripple Effect #
Turns on a wave-like visual effect to the clicks on the following elements:
Menu items in the header
"Full Screen" Search in the header
"Back to top" button
Button with link
Image with link
Column with link
Interactive Banner with link
IconBox with link and "Solid Circle" icon style
Social Links
Sharing Buttons
Message Box close icon
Tabs
Vertical Tabs
Post Prev/Next Navigation with "Sided" layout
Grid items, if the "Overriding Link" option is set to the "Post Link" value
Filter items in Grid
Check how it looks on http://impreza2.us-themes.com/ and http://impreza8.us-themes.com/
Rounded Corners #
Allows adding rounded corners to some theme elements to fit your site's general design approach.
It affects the listed elements:
"Back to top" button with the default style
"Hamburger" button to show the Vertical Header on small screens
Datepicker dropdown of the Contact Form element
ActionBox element
The default Badge style in the Post Taxonomy element
Grid Filter items and values
Message Box element
Avatar image of the Post Author element
Pricing Table element
Progress Bar element
Sharing Buttons element
The tooltip of the Social Links element
Some styles of the Tabs element
Underlining Links #
Allows turning on the underline effect to the text links on hover.
Keyboard Accessibility #
Allows highlighting the interactive theme elements (menu items, buttons, links, inputs, tabs, etc.) on focus. This tool is important to provide a smoother browsing experience with a keyboard only.

"Back to Top" Button #
Allows showing the floating button that scrolls any website page to the top.
When activated, you can specify the:
Button Style — by picking the relevant option of the dropdown list.
Button Position — by switching the side of the screen where it should appear.
Button Color — by using the relevant color picker (it only appears for the "Default" style, other custom styles got colors specified at Theme Options > Button Styles).
Page Scroll Amount to Show the Button — by using the slider to define the page scroll distance where the "Back to Top" button should appear. 100vh means 100% of the current screen height.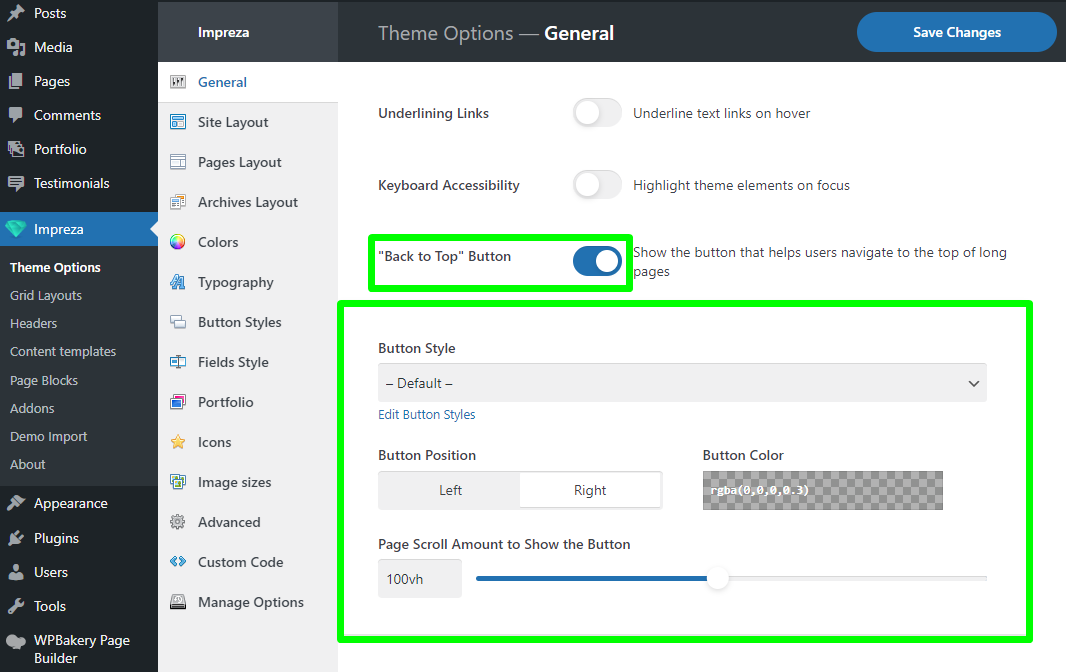 Cookie Notice #
Allows showing the notification about cookies usage to the site visitors.
This built-in cookie notice only shows a "consent" option for your website visitors. If you need more control over cookies/visitor agreements, use the appropriate plugins.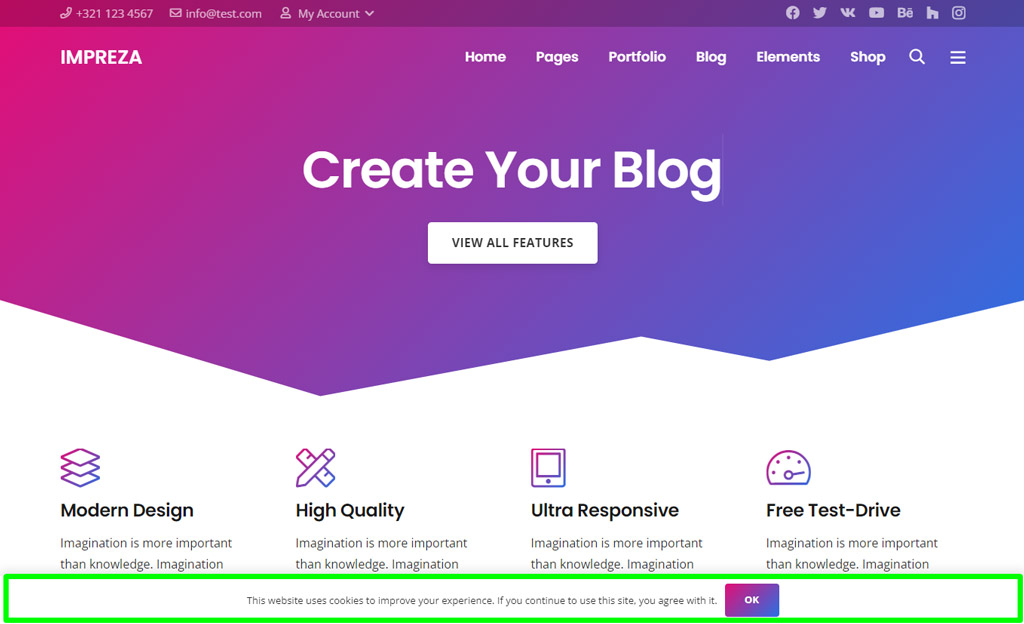 When turned on, you can specify the: 
Message — the content of the notification
Show link to the Privacy Policy page — allows showing the link to the Privacy Policy page, which you can set up in the Privacy Settings admin page
Position — defines if the Cookie Notice should appear at the top or the bottom of the screen.
Button Label — defines the text of the submit button.
Button Style — a dropdown defining the style of the submit button.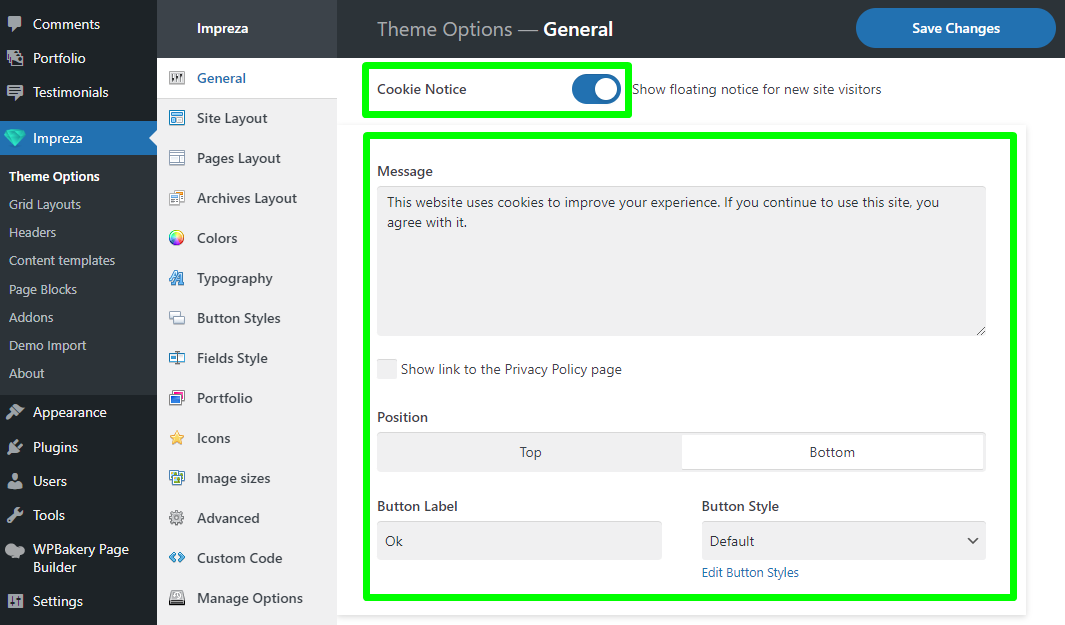 Smooth Scroll Duration #
Some clickable theme elements (links, buttons, menu items, etc.) allow smooth scrolling of a page to a specific section/element (by the ID option). This option allows changing its duration.
Change the Smooth Scroll Duration by using the relevant slider (the default value is 1000ms):