Updating the Theme
Updated 6 months ago
We strongly recommend always keep your Zephyr up to date. Check the latest version in the changelog. Also, make a backup before updating the theme.

If you're experiencing updating issues, deactivate all 3rd party plugins and try updating again. 
Fast One-Click Update #
To receive Zephyr updates via WordPress dashboard you just need to activate your theme. Every time we release a new version of Zephyr, you see a notification circle and can update the theme via one-click at Appearance > Themes: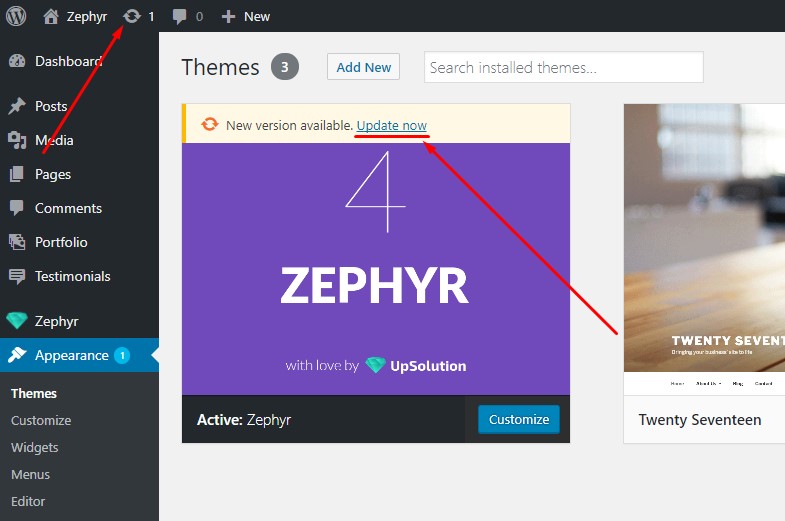 After updating the Zephyr you always should to update the UpSolution Core plugin.
To update the plugin just go to the Plugins admin page and click the relevant "update now" link.
Manual Update #
The latest Zephyr version will be available on ThemeForest in 2-7 days after the release.
You can download the latest version of the Zephyr.zip at your ThemForest downloads page:

After downloading there are 2 ways of updating the theme manually:
Updating via WordPress #
Navigate to Appearance > Themes.
Activate one of the Default Themes that WordPress brings.
Delete the current version of the Zephyr, installed on the site, by selecting the Theme Details and then clicking on Delete (Right Bottom Corner). This won't remove the previous theme options, so the information will not alter once you install the newest version.
Press Add New on this same page, then select Upload Theme, find the Zephyr.zip file on your computer and click Install Now button.
After activating the Impreza theme you should to update the UpSolution Core plugin to the latest version. The "update now" link is available on the Plugins admin page.
Updating via FTP #
Connect to your hosting via an FTP software
Unzip the Zephyr.zip file on your computer
Upload the extracted Zephyr theme folder to wp-content/themes/Zephyr overwriting all the files of the previous version.