Support Policy
Updated 1 year ago
UpSolution theme support policy #
Regarding the official ThemeForest Item Support Policy the initial item's support should be limited to a certain period of time, and this period can be increased afterwards.
In short:
Support for a theme has an expiration date
When you purchase a theme, you have 6 months of included support by default
You can extend theme's support if it hasn't expired yet
You can renew theme's support if it has expired
Read the full inforamtion about support options in the relevant article.
What happens if my support has expired? #
There are 3 limitations for Clients with expired support, they won't be able:
create new support tickets
reply to any existing tickets
vote for any existing tickets
How to know when my support expires? #
We implemented synchronization with Envato (ThemeForest), which allows to view, when your support for a theme expires. For this please do the following steps:
1. Go to your Licenses page and click on "Synchronize" link at the bottom of the list:

2. Approve data synchronization with your Envato account
3. After that you will see support expiration date for every theme in the "Support till" column:

Green color means your support for this theme is active
Yellow color means your support for this theme will expire soon (less than 14 days left)
Red color means your support for this theme has expired
How to renew or extend my support for a theme? #
Go to your Licenses page and hover mouse cursor on a red (or yellow) date, in the popup message you will see the link to ThemeForest theme page:

You can also view information about support expiration on ThemeForest theme pages: Impreza and Zephyr.
If your support is still active you can extend it by click the relevant button: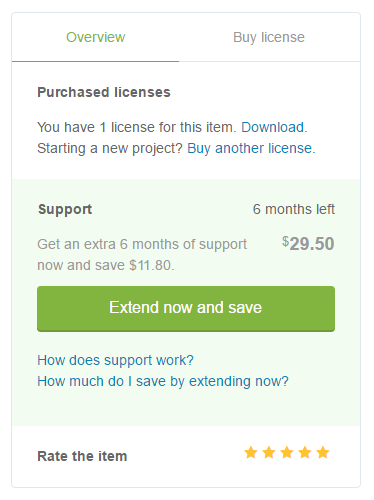 If your support has expired you can renew it by click the relevant button: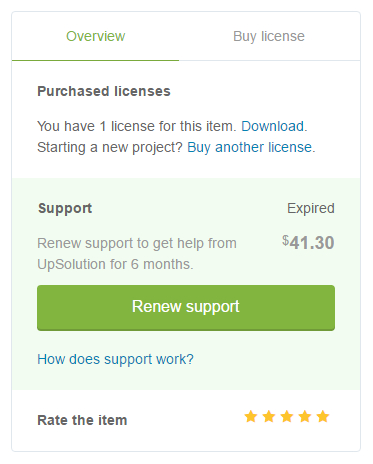 Read more information about prices in the Extending and Renewing Support article.
What if I have several theme licenses? #
The main thing you should know: support is related to a theme itself (not to a single license). It means that:
You don't have to purchase separate support for every license of one theme.
If you have several licenses of one theme (e.g. 10 licenses of Impreza) your support expiration date is based on the latest purchased license.
Support for one theme doesn't affect on other themes (e.g. you can have active support for Impreza and expired support for Zephyr at the same time).